Black Lead, Graphite, Graph.
Available
in 3C-30C, 200C, 6X-30X, 1M-10M, 30C, 200CH from $6.59
Purchase options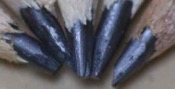 Below are the main rubriks (i.e strongest indications or symptoms) of Graphites in traditional homeopathic usage, not approved by the FDA.


Have you ever used Graphites? Yes No

GENITALS ETC
Urine
Dark colored urine, which, after two hours, deposits a reddish sediment,
Very dark-brown urine, with a small stitch in the urethra during micturition,
Acrid, sourish odor to the urine,
Urine clear, but after four or five hours, covered with an iridescent film (thirty-sixth day),
The urine becomes turbid, and deposits a white sediment,
The urine becomes very turbid after two hours, with reddish sediment; biting in the urethra while passing it,
Urethra.
Burning in the urethra when not urinating,
Burning in the orifice of the urethra after urinating,
Cutting dragging downward from both kidneys before urinating (the first days),
Raw pressure in the root of the urethra, with desire urinate,
Tickling in the urethra while urinating,
Urging to urinate, with dribbling after the usual discharge (first day),
Painful urging to urinate in the morning in bed, but only a few drops were passed, with cutting in the urethra (after five days),
Sudden desire to urinate, though with little urine,
Anxious dragging and pressure to urinate at night, with cutting in the abdomen; she was frequently obliged to rise on account of it, though only a little was passed, with cutting pain, for two days,
Micturition.
Frequent micturition,
Frequent micturition at night,
She was frequently obliged to urinate,
More frequent, copious urination than usual; even at night she was obliged to rise on account of it, the first days,
Obliged to urinate very early in the morning,
Nocturnal micturition,
Was obliged to rise at night to urinate, contrary to his habit,
Nocturnal enuresis,
Involuntary micturition,
Very thin stream of urine, as if the urethra was contracted,
Male
The prepuce swells to a large water blister, without pain,
The glans penis becomes covered with thick mucus, even when he washes every two or three days,
Pinching pain in the penis,
Drawing pain in the glans penis,
Bubbling sensation in the penis, during erections,
Jerking pain in the penis for two minutes,
Swelling of the scrotum (in the coverings of the testicles? hydrocele?),
Itching within the scrotum,
The right testicle seems swollen,
Drawing sensation in both testicles,
Sticking pain at times in the right testicle,
Extremely lascivious thoughts, which tormented him so that he feared he would be insane, with restless running about; with heaviness in the perineum and tensive pain in the penis, without erections,
Female
The left indurated ovary swells up, with stony hardness, with violent pains, partly when touched, partly even on inspiration or hawking, when the most violent stitches shoot into it, so that she is beside herself, with profuse general perspiration and continued loss of sleep,
A painless pimple on the internal labia,
A vesicle on the labia, with itching-biting pain,
Leucorrhoea, ; (after three days),
Leucorrhoea, as much as two ounces during the day and night, for eight days, especially in the morning after rising from bed,
Profuse leucorrhoea (after five days),
Profuse leucorrhoea of very white mucus (after seven days),
Profuse leucorrhoea, with weakness of the back and sacrum, when walking and sitting (after a few hours),
Thin leucorrhoea, with distended abdomen (after eight days),
Pressure sometimes towards the female genitals, when standing,
A painful pressure towards the female genitals,
Biting in the vagina,
Soreness of the pudenda,
Itching of the pudenda, before menstruation,
Great itching of the pudenda, a few days before menstruation,
Sticking in the labia, frequently,
Menstruation three days too soon (secondary action) (after twenty-nine days),
Menstruation two days too early, very thin, of short duration, with severe and very unusual pains in the back, which disappear on motion,
Menstruation does not come on properly at first,
Menstruation does not appear at the proper time, without other symptoms,
Menstruation delayed three days (primary action, after four days),
Menstruation seven days too late (after twenty-nine days),
Menstruation nine days too late, with heaviness in the abdomen and dulness in the head, during the first days,
Menstruation eleven days too late,
Suppressed menstruation, with heaviness of the arms and legs,
Genitals
Male.
Erections, without lascivious thoughts,
Strong erections (after forty-eight hours, ; (eighth day),
Strong erections, immediately after coition (after twenty-seven days),
Voluptuous irritability of the genitals,
Tension and unpleasant sensation in the genitals, while walking, and on the slightest touch of the clothing,
Jerking pain in the left spermatic cord,
Revival of the sexual desire and fantasies,
His thoughts about coition were quite cold,
Very indifferent to coition, with little inclination thereto,
All desire for coition gradually left him,
His usual great and almost inordinate sexual desire disappeared suddenly and completely for several days,
Emissions nearly every night,
Emissions nearly every night, the first seven days,
Emissions seem to cease after twenty days,
No ejaculation follows coition in spite of every exertion,
≡ more ...