Black Lead, Graphite



Available
in 3C-30C, 200C, 6X-30X, 200X, 1M-50M, CM from $6.50
Purchase options
HPUS indication of Graphites: Cracks in skin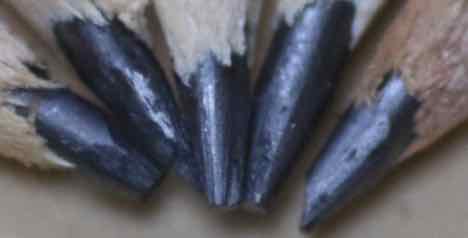 Homeopathic remedies are prescribed on the basis that in a tiny dilution like cures like, so while very dilute Graphites may help, unprocessed Graphites may be best avoided.
Below are the main rubriks (i.e strongest indications or symptoms) of Graphites in traditional homeopathic usage, not reviewed by the FDA.
< < Graphites - main page
HEAD
Head
Rush of blood to head with flushed face also with nose bleed and distention and flatulence
Sensation of cobweb on forehead
Feels numb and pithy
Burning on vertex
Cataleptic condition.
Brain; brain feels loose
Sensation of head bubbling; boiling sensation
Coldness
forehead
Congestion (see pulsation)
afternoon
fullness
from suppressed period
with redness of face
Constriction, tension (see also pulling, pressing)
morning
afternoon
as if in love
like band or hoop
like wearing a skull cap
sleeping
as if by string
on waking
forehead
as from a band
back of head (occiput)
on waking
Empty, hollow sensation
after eating
Hot
afternoon
after dinner
after eating
flashes of heat
forehead
top of head (vertex)
in spots
Movements in head
afternoon
swimming, as from alcohol (see confusion of mind)
rolling
shaking sensation
waving sensation
Movements of head; trembling
Sensation of numbness
Pain, headache; as if crushed shattered, beaten to pieces
Pulsating
morning
afternoon
while in bed
forehead
side
right
afternoon
Sensitive; head sensitive to cold air
Twitching of muscles
sides
Uncovering head
Weakness; extending to throat
Headache
Headache in morning on waking, mostly on one side, with inclination to vomit
Rheumatic pains on one side of head, extending to teeth and neck
Heaviness (see pain; pressing)
pressing); after eating
pressing); back of head (occiput)
Pain, headache
morning
in bed
in bed; with nausea
on rising
on waking
noon
afternoon
evening
night
affected by certain foods and drinks (improved, brought on or aggravated); while eating
affected by certain foods and drinks (improved, brought on or aggravated); after eating
with catarrh
eyes and vision (affecting or affected by); looking upward
from catching cold
with running or blocked nose
from emotions; nervous
from exertion; physical exertion; from lifting
from exertion; mental exertion
with stomach complaints; with diarrhoea
with high or low temperature; headache during the heat
with high or low temperature; headache during the chill
must lie down
while lying down; on either side
while lying down; on painful side
in women; before period
in women; at commencement of period
in women; during period
from certain movements; movement in general
from certain movements; on moving head
from certain movements; rising (see morning, noon, night, etc., on rising, also movement; raising head); from lying
from certain movements; turning body
from certain movements; turning head
from noises
from certain odours; from strong odours
with other pains; pain in back
with other pains; pain in neck
with other pains; pain in nape of neck
perspiration
from poisoning; narcotics
rheumatic
travelling; while travelling
travelling
from sex; during sexual intercourse
during sleep
after sleep
sleep; after sleep
pain in small spot
sun
from warmth; summer
worm complaints
extending to other parts; face
extending to other parts; shoulder
extending to other parts; teeth
bones
aching deep in brain
in forehead
morning; in bed
morning; on rising
morning; on waking
afternoon
evening
eating
during period
on movement
above eyes; above right
above eyes; before period
above eyes; during period
back of head (occiput)
evening
after sexual intercourse
lying down
after sleep
while walking
extending to other parts; down back
extending to other parts; chest
extending to other parts; down back of neck
forehead and back of head (occiput)
sides; one side
sides; right
sides; left
sides; morning
in bed
on rising
sides; afternoon
sides; evening
sides; night
sides; while lying down; in side not lain on
sides; on movement; after rising
sides; periodic
sides; after rising
sides; extending to other parts; teeth
temples
morning
morning; on waking
while lying
side not lain on
extending to other parts; to shoulder, face distorted
top of head (vertex)
morning
afternoon
during heat
forehead and top of head (vertex)
boring, digging, screwing
burning
in spots
top of head (vertex)
top of head (vertex); in spots
bursting
after eating
as if head would fly to pieces
forehead
forehead; after eating
top of head (vertex)
cutting, darting, stabbing
temples
pulling
evening
tightening
extending to other parts; face
extending to other parts; neck
forehead
forehead; evening
forehead; extending to other parts; back of head (occiput)
back of head (occiput)
back of head (occiput); evening in bed
back of head (occiput); in bed
dull pain
jerking
sides
sides; right
piercing, stabbing (see cutting)
as from a nail
pressing (see bursting, pulling)
morning
morning; on rising
morning; on waking
afternoon
as if in armour
like a cap (see armour)
constricting
after eating
inward
during period
as if in a vice
wandering
as if brain bound up
forehead
forehead; morning; after rising
forehead; after eating
forehead; pressing outward
back of head (occiput)
back of head (occiput); morning
back of head (occiput); when looking up
back of head (occiput); like weight or stone
back of head (occiput); extending to other parts; into back and chest at noon
back of head (occiput); extending to other parts; to neck
temples
temples; morning; in bed
temples; side not lain on
top of head (vertex)
sore bruised, sensitive to pressure
evening
smarting; forehead
smarting; forehead; on touch
stitching, sudden, sharp; evening
stitching, sudden, sharp; side of head
stitching, sudden, sharp; temples
evening
stunning
tearing, rending
morning; on waking
noon
afternoon
on waking
forehead
forehead; morning
forehead; morning; on waking
forehead; noon
forehead; afternoon
sides of head
as if torn
forehead
forehead; late morning
Shocks, blows, jerks, etc. (see jerking pain, pulsation, plug, nail)
sides
right
Scalp
Humid, itching eruption on hairy scalp, emitting a fetid odor
Hair; baldness
baldness; patches
falling
sides
becomes grey
tangles easily
Skin and scalp; powdery flaking skin
out-break on skin
back of head (occiput)
burning
cracks
crusts, scabs
crusts, scabs; moist
eczema
wearing away skin
itching
moist
moist; sticky, glue-like moisture
offensive
painful
scales
scales; patches
scales; washing
dandruf
dandruf; moist
generating pus
erysipelas (inflamed from infection, deep red colour)
itching
perspiration; scalp
during sleep; on falling asleep
after walking; in open air
after washing
wens