Black Lead, Graphite, Graph.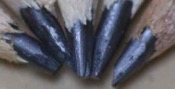 Below are the main rubriks (i.e strongest indications or symptoms) of Graphites in traditional homeopathic usage, not approved by the FDA.


Have you ever used Graphites? Yes No

HEAD
Head
Fatigue in consequence of intellectual labour.
Sensation of numbness in the head.
Confusion in the head.
Feeling of looseness of the whole brain.
Tension and pressive constriction in the occiput, with stiffness at the nape of the neck.
Sensation of compression and contraction in the forehead.
Burning on the top of the head on a small spot.
Ebullition of blood, with beating and buzzing in the head.
Fulness in and congestions to the head, the menstruation being suppressed.
Humid scabs on the head.
Sweat on the head, while walking in the open air.
Perspiration smelling acid or very offensive, colouring the linen yellow; on the head (as on the whole body) at night and during the day, from the least exercise; agg. even while talking, amel. when walking in the open air.
Headache
Attacks of headache, sometimes semi-lateral, with nausea and acid vomiting.
Violent headache with eructations and nausea, during menstruation.
Periodical unilateral headache, with constipation and amenorrhoea.
Pain in the head as if the head were numb and pithy.
Violent headache in the morning, driving out a cold perspiration, and inducing syncope.
Headache from the motion of a carriage, as well as on moving the head, or during and after a meal.
Headache on the side which presses the pillow.
Intense heavy weight, or dull pressure, in upper part of occiput, with a feeling as if the head were drawn back, obliging him to rest his head; unable to read or work while pain lasts.
Compressive pain in the vertex in the afternoon, with rotatory movement in the head.
Humid, spreading, scurfy eruption on the top of the head, painful to the touch, as if from subcutaneous ulceration, and emitting a disgusting odour; extending down to sides of the head into the whiskers; after scratching, more sore and humid; later drying up to a white scurf.
Scalp
Tearing and pulling in the scalp, in the teeth, and in the glands of the neck.
Itching in the scalp.
Smooth large wens on the hairy scalp; the hairy scalp is very hot, and itches very much, esp. when walking in the open air.
Abundant desquamation of the scalp.
Falling off of the hair, even on the sides of the head and the whiskers.
Rheumatic pains in the scalp, principally in the sides, extending to the teeth and cervical glands; agg. when walking and becoming cold in open air, amel. from warmth and while getting warm when walking.
The hair turns grey.
≡ more ...