Black Lead, Graphite, Graph.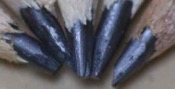 Have you ever used Graphites? Yes No


Below are the main rubriks (i.e strongest indications or symptoms) of Graphites in traditional homeopathic usage, not approved by the FDA.
MIND
Mind
Dejection, sadness and profound melancholy with discouragement and much weeping.
Feels miserably unhappy.
Agitation, compression of the heart, and anguish, as if at the point of death, or under the fear of some calamity, often with headache, vertigo, nausea, and perspiration.
Anxious agitation (with inclination to grief, anxiety about the future), sometimes when seated at work, or at night, with impulse to quit the bed.
Agitation and inquietude in the morning.
Much inclined to grieve and cry in evening, whilst in forenoon she had laughed about every trifle, contrary to her habit.
Weeping without cause.
Obliged to weep at music.
Timid disposition.
Irresoluteness with excessive cautiousness and hesitation.
Too great susceptibility to impressions.
Tendency to be frightened.
Irascibility.
Dread of labour.
Extreme hesitation; unable to make up her mind about anything.
Absence of mind.
Forgetfulness with misapplication of words in speaking or writing.
≡ more ...