Black Lead, Graphite, Graph.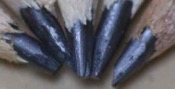 Below are the main rubriks (i.e strongest indications or symptoms) of Graphites in traditional homeopathic usage, not approved by the FDA.


Have you ever used Graphites? Yes No

MIND
Mind
Dejection, gloomy mood (aft. 72 h.).
Dejection, with great heaviness of the feet.
Sad mood (aft. 4 d.).
Troubled mood.
Quite despondent in mood, and full of anxiety, till evening when he lies down.
Grief even to despair, about the most trifling matters.
Very much disposed to grieve and to weep, in the evening; while in the morning, contrary to her wont, she laughs at every trifle.
Mournfulness, with nothing but thoughts of death (aft. 11 d.).
Sad, melancholy, she has to weep.
She has to weep over music.
He has to weep in the evening, without provocation.
The child weeps and is peevish.
Oppression with inclination to weep, in frequent fits.
Extraordinary apprehensiveness, so that she cannot compose herself; it goes off on weeping.
Anxious oppression.
Oppression and anguish, with very disagreeable sensation in the stomach.
Great anguish, so that she trembles all over, for several minutes.
Anguish with headache, vertigo and ill-humor.
Great anguish in the evening, as if a misfortune had happened, with heat in the face and coldness of the hands and feet.
He often feels as if his end was near, or as if the greatest misfortune impended over him.
Anguish, so that she cannot sit still, with perspiration and nausea.
Anguish and hurry chase him about, like a criminal.
Restless and unsettled, he cannot fix his thoughts on his work, has no pleasure in anything; better after taking a walk.
Slow to determine and to recollect.
Though usually quick to decide, she soon after taking the medicine, becomes slow of recollection and resolution.
Extreme scrupulousness; she cannot take anything lightly.
Timidity.
Easily affected and frightened.
Easily frightened (aft. 6 h.).
Irritable and passionate, in the morning; in the afternoon, hypochondriac.
Very easily excited; even from speaking, the hands get hot.
Irritate and restless.
Peevish.
Peevish and hypochondriac, without particular cause.
Very peevish; everything vexes him and makes him indignant.
He would like to be alone, every disturbance vexes him.
Peevish (aft. 3 h.).
Very peevish and passionate.
She gets vexed readily, but she can also easily dismiss it again from her mind.
Lack of disposition to work.
In the morning cheerful, in the evening dejected.
Distracted.
Apt to make mistakes in speaking and in writing.
Continual forgetfulness.
Extreme forgetfulness (aft. 8 d.).
Only obscure remembrance, even of what has just passed.
Stupid feeling in the head, in the morning, for three days in succession.
Unfit for mental work after the noon-siesta, for four hours.
Great and painful obtuseness of the head, in the morning, for one hour (aft. 4 d.).
Obtuseness of the head, at once in the morning, with nausea and sour vomiting.
Pressive obtuseness of the head, chiefly in the morning.
Gloominess in the forehead, with a contractive sensation.
Feels intoxicated in the head.
Reeling and whirling around, in the evening, while taking a walk.
Staggering, and tendency to vertigo, with unconsciousness shivering and a chill.
Giddy and dizzy in the whole head.
≡ more ...