Black Lead, Graphite, Graph.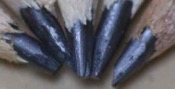 Have you ever used Graphites? Yes No


Below are the main rubriks (i.e strongest indications or symptoms) of Graphites in traditional homeopathic usage, not approved by the FDA.
MODALITIES ETC
Appetite
The appetite is increased.
Voracious hunger, but after eating nausea and vertigo (aft. 3 d.).
No appetite, in the evening.
The loathes the food.
Little appetite for warm food.
Repugnance to salty food.
Liquids are repugnant and loathsome to her.
Meat and fish are repugnant to her.
Repugnance to meats, when thinking of them; though she has a tolerable relish for them when eating them; still, she prefers bread.
Good appetite for meat at supper, when the at other times had no desire for meat.
Unusual thirst in the morning, for several days successively.
Violent thirst, at once, in the morning.
Much thirst, after eating (aft. 13 d.).
Much craving for beer, without actual thirst, only to get cooled off internally.