Black Lead, Graphite, Graph.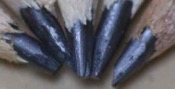 Have you ever used Graphites? Yes No


Below are the main rubriks (i.e strongest indications or symptoms) of Graphites in traditional homeopathic usage, not approved by the FDA.
MOUTH
Mouth
Speech impeded by paralysis of the muscles.
Gums and teeth
Toothache at night, or in the evening in bed, agg. by heat, and sometimes with heat of the face and swelling of the cheek.
Pains in the molars, on closing the jaws.
Lancinating and drawing toothache, esp. after drinking anything cold, and agg. by warmth.
Pain, as from excoriation, in teeth and gums, during and esp. after a meal.
Easy bleeding and swelling of the gums.
Fetid odour from the gums and mouth.
Discharge of black and sour blood from the teeth.
Saliva
Dryness of the mouth in the morning.
Tongue
Pain, as from excoriation, vesicles and ulcers on the tongue.
Taste
Putrid and urine-like smell from the mouth, gums, and nose.
Bitter taste in the mouth, the tongue being much coated.
Taste of rotten eggs in the morning, after rising.
Palate
Profuse salivation, and accumulation of mucus in the palate and throat.
≡ more ...