Black Lead, Graphite, Graph.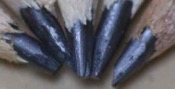 Below are the main rubriks (i.e strongest indications or symptoms) of Graphites in traditional homeopathic usage, not approved by the FDA.


Have you ever used Graphites? Yes No

NOSE
Nose
Swelling of the nose.
Sensation of tension in interior of nose.
Black pores on nose.
Dry scabs in nose.
Painful dryness of nose.
Nostrils, excoriated, cracked and ulcerated.
Fetid smell from nose.
Discharge of blood when the nose is blown.
Epistaxis, esp. in the evening and at night; preceded by rush of blood to head, and heat in the face.
Discharge of fetid pus from the nose.
Sense of smell sharpened (too sensitive, cannot bear the smell of flowers).
Flow of mucus from the nose, liquid, or yellowish, or thick, with putrid smell.
Discharge
Stoppage, and troublesome dryness of nose.
Quotidian coryza, on being chilled.
Dry coryza, with headache and nausea, which compel the patient to lie down.
Fluent coryza, with catarrh (as soon as he becomes cold).
≡ more ...