Black Lead, Graphite, Graph.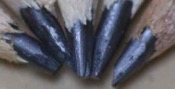 Below are the main rubriks (i.e strongest indications or symptoms) of Graphites in traditional homeopathic usage, not approved by the FDA.


Have you ever used Graphites? Yes No

NOSE
Nose
Sense of smell too acute; cannot bear the smell of flowers.
Smell from the nose as from burned hair.
Bloody mucous discharge from the nose.
Frequent discharge of thick yellowish, fetid mucus from the nose.
Purulent, fetid secretion.
Dryness of the nose.
Excoriation of the nose.
Dry scabs in the nose, with sore, cracked and ulcerated nostrils.
Red nose, with black pores.
Discharge
Loss of smell with dryness of nose; with coryza.
Nosebleed in the evening, the afternoon preceding rush of blood to the head and heat of the face; at night; in the morning; with running coryza.
Sneezing on opening the eyes; either with dryness of nose or running coryza.
Stoppage of the nose, with secretion of tough badly-smelling mucus.
Coryza on getting cold.
Mucus often forms hard masses or crusts, in coryza.
≡ more ...