Black Lead, Graphite, Graph.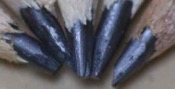 Below are the main rubriks (i.e strongest indications or symptoms) of Graphites in traditional homeopathic usage, not approved by the FDA.


Have you ever used Graphites? Yes No

RECTUM, ANUS, STOOL
Stool
Obstinate constipation, with hard faeces (the lumps being united by mucous threads), and hardness in the hepatic region.
Faeces hard, knotty, of too great a size, and scanty.
A quantity of white mucus is expelled with the stool.
Faeces too soft.
Stools of a putrid, sour smell (with burning at the rectum), or of sanguineous mucus.
Mucous diarrhoea.
Diarrhoea, with tightness of the abdomen.
Faeces of a very small size, like a worm.
Lumbrici and ascarides.
Taenia.
Itching, sensation of excoriation, and swelling of the anus.
Large haemorrhoidal excrescences in the anus, with pain as from excoriation, esp. after a stool.
Painful and burning cracks between the haemorrhoidal tumours.
Prolapsus recti with the varices, as if the rectum were paralysed.
≡ more ...