Black Lead, Graphite, Graph.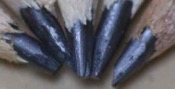 Have you ever used Graphites? Yes No


Below are the main rubriks (i.e strongest indications or symptoms) of Graphites in traditional homeopathic usage, not approved by the FDA.
SKIN
Skin
Itching by day, on the back and the arms.
The itching becomes general and much excited; also in the face and on the genitals.
Momentary eroding itching, now here, now there, exciting to scratch.
Itching over the whole body, and after scratching, little pimples, containing water appear (aft. 17 d.).
Small pustules on the chin and on the chest.
Itching nodules full of smarting water; in various parts of the body, for twelve hours.
Little nodules, without sensation, spring up at night over the whole body, and go off in the morning.
Many small, red, itching pimples, with pus in their tips, burning after scratching; they vanish on the following day.
Spots, like flea-bites, here and there, on the body.
Many red, itching spots all over the body, especially on the calves, for seven days (aft. 25 d.).
The tetter turns into an inflammatory swelling, for four days.
The skin chaps on the limbs covered with herpes.
Unhealthy skin, every little lesion goes into suppuration.
Several small furuncles on the neck, on the back and on the arms.
The ulcer becomes very painful.
The limb on which the ulcer had healed entirely, begins to pain occasionally, with drawing and tearing, particularly in the open air.
The limb on which there is an ulcer, begins, even in the parts at a distance from the ulcer, to pain violently, when touched or when moving slightly, as if the bone was shattered.
Itching pressure in the ulcer (aft. 5 d.).
Pressure and shooting in the ulcer (aft. 3 d.).
Tearing in the ulcer (aft. 5 d.).
Burning pain in the cicatrix of an old ulcer.
Fetor of the ulcer (aft. 20 d.).
The scurf of the ulcer smells like herring-prickle.
Proud flesh in the ulcers.
On the cicatrix of a wart, frequent shooting itching, like fleabites, only transiently going off by rubbing.
In the varices, shooting and straining.
Itching on the swollen varices of the lower limbs.
≡ more ...