Black Lead, Graphite, Graph.
Available
in 3C-30C, 200C, 6X-30X, 1M-10M, 30C, 200CH from $6.59
Purchase options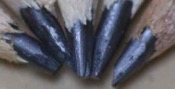 Below are the main rubriks (i.e strongest indications or symptoms) of Graphites in traditional homeopathic usage, not approved by the FDA.


Have you ever used Graphites? Yes No

SKIN
Skin
Itching over various parts of body.
Violent itching and burning, with eruptions.
Eczema, with profuse serous exudations, in blondes inclined to obesity; also alternating with internal affections.
Itching blotches on various parts of the body, from which oozes a watery, sticky fluid.
Skin is not inclined to heal, ulcerates readily.
Old ulcers, with fetid pus, proud flesh, itching, stinging.
Old scars from ulcers.
Skin dry, inclined to crack.
See 4, 5, 6, 7, 8, 9, 19, 20, 22, 23, 30, 31, 32, 33.
≡ more ...