Black Lead, Graphite, Graph.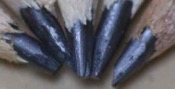 Below are the main rubriks (i.e strongest indications or symptoms) of Graphites in traditional homeopathic usage, not approved by the FDA.


Have you ever used Graphites? Yes No

THROAT
Throat
Sore throat in the morning, on rising, with both pressing and shooting pain.
Sore throat, as from a glandular swelling.
Pressure in the region of the pit of the throat, as if he was over-sated, or had swallowed too large a morsel.
Sensation in the throat as if there was an excrescence in it or adhesive mucus, so that if he tries to swallow even a little thing (a crumb) it lodges in that place.
Sensation in the left side of the throat, as if he had to swallow over a lump, with scraping in it; not worse when swallowing food than in empty deglutition.
Sensation in the throat, when swallowing, as if there was a lump in it, and especially in empty deglutition there is a contracting choking from the oesophagus to the larynx.
Spasm in the throat, with nausea (aft. 3 d.).
Constant spasm in the throat, compelling him to swallow with a choking sensation, as if the food he is eating would not go down (aft. 24 h.).
Sensation in the throat as if it was sewed up, with constant scraping therein.
Scraping in the throat (aft. 24 h.).
Intolerable scraping and scratching in the throat.
Scraping in the throat, with a sensation in the fauces, behind the velum pendulum palati, as if it was parched; this only diminishes after detaching some tenacious phlegm; several days in succession, in the morning, on awaking.
Scraping in the throat (after a meal), with rawness and roughness.
Roughness in the throat, only sensible when speaking.
Roughness and scraping excoriation in the throat.
Shooting in the throat, even when not swallowing.
Shooting and choking in the throat in deglutition, with dryness posteriorly in the left side of the throat, in the palate.
Severe shooting in the throat, on swallowing, with ulcerative pain and choking.
Quickly appearing twitching stitches, in a point deep within the throat on the right side, merely on moving the neck, on talking, stooping, and rising again, not when swallowing.
Pinching pain in the throat (aft. 5 d.).
Swelling of the tonsils in the throat, with pain on deglutition.
Flow of water from the mouth, with swelling of the upper lip, with a painful pimple on it, with painful gums and excoriated palate.
Sensation in the throat, as if a catarrh or cold was coming.
Catarrhal roughness, with mucus on the chest and windpipe.
Catarrh and coryza, with roughness, continually exciting to cough by its titillation, with lassitude and headache (quickly wiped out by Aconite Aconite).
Pain from rawness in the chest, like raw flesh.
Scrapy feeling in the windpipe.
Rough throat (aft. 6 d.).
Hoarseness, every evening.
She could not speak loud, for burning in her throat, as if everything was excoriated.
Mucus on the chest (aft. 20 d.).
≡ more ...