St. John's-wort, Hypericum, Hypericum Perfoliatum, Hypericum perforatum, millepertuis, Hyper.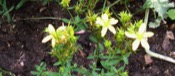 Have you ever used Hypericum Perforatum? Yes No


< < Hypericum Perforatum- main page

Below are the main rubriks (i.e strongest indications or symptoms) of Hypericum Perforatum in traditional homeopathic usage, not approved by the FDA.
ABDOMEN
Abdomen
Tympanitic distention of abdomen; relieved by a stool.
Cutting in belly, in region of navel.
Pinching pains, diarrhoea; with catamenia.
Nausea
Pain in stomach, nausea and diarrhoea, chill; after eating.
Hypochondria
Sticking or dragging in the right hypochondrium.
≡ more ...