St. John's-wort, Hypericum, Hypericum Perfoliatum, Hypericum perforatum, millepertuis, Hyper.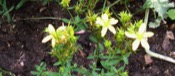 Have you ever used Hypericum Perforatum? Yes No


< < Hypericum Perforatum- main page

Below are the main rubriks (i.e strongest indications or symptoms) of Hypericum Perforatum in traditional homeopathic usage, not approved by the FDA.
BACK AND NECK
Back and neck
Cutting between scapulae.
Lies on the back, jerking head backward.
Entire spine tender; paroxysms of pain in different joints, with mania.
Consequences of spinal concussion.
Stinging near edge of right scapula near spine; morning.
Stitches in the small of the back.
Aching pain and sensation of lameness in the small of back.
Violent pain and inability to walk or stoop, after a fall on the coccyx.
Neck
After a fall, slightest motion of arms or neck extorts cries; cervical vertebrae very sensitive to touch.
≡ more ...