St. John's-wort, Hypericum, Hypericum Perfoliatum, Hypericum perforatum, millepertuis, Hyper.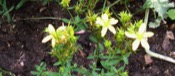 Below are the main rubriks (i.e strongest indications or symptoms) of Hypericum Perforatum in traditional homeopathic usage, not approved by the FDA.


Have you ever used Hypericum Perforatum? Yes No


< < Hypericum Perforatum- main page
CHEST
Chest
Stitches in the chest, below the breasts.
Stitches from within outward, through l. breast and sternum, agg. from motion.
Pressure and burning in the chest.
Tightness in the chest.
agg. In foggy weather.
(Pneumonia in persons who have piles.).
Stinging in l. chest, agg. when moving.
Heart
The heart feels as though, it would fall down, in the evening.
Palpitation.
Pulse rapid and hard.
Local congestions and capillary erethism, with or without haemorrhages and great nervous depression, following wounds.
Pulse
Pulse hard, accelerated.
Respiration
Anxiety in chest in forenoon, with short breath.
Hoarseness; Scraping and roughness in larynx, upper part of pharynx and nares in foggy weather.
Asthma agg. in foggy weather.
Frequent dry hacking cough; short, barking cough.
Whooping-cough, agg. 6 to 10 p.m.
≡ more ...