St. John's-wort, Hypericum, Hypericum Perfoliatum, Hypericum perforatum, millepertuis, Hyper.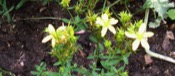 Below are the main rubriks (i.e strongest indications or symptoms) of Hypericum Perforatum in traditional homeopathic usage, not approved by the FDA.


Have you ever used Hypericum Perforatum? Yes No


< < Hypericum Perforatum- main page
EXTREMITIES, LIMBS
Upper extremities
Stitches on the top of the shoulder at every inspiration.
Flying pains in r. shoulder.
Neuralgia and paralytic pain in l. upper arm.
Tension in both arms and in the hands.
Numbness in l. arm, amel. by rubbing.
Lower extremities
Sensation as if the l. foot was strained or dislocated.
The feet feel pithy, as if pricked with needles.
Fearful sharp pain in knees, could hardly touch the m.
Coxalgia after confinement.
Sciatica, rheumatism; from injury.
L. leg numb, cold while sitting.
Effects of running nail or pin into foot.
Feet much swollen.
≡ more ...