St. John's-wort, Hypericum, Hypericum Perfoliatum, Hypericum perforatum, millepertuis Hyper.
Available
in 2C-30C, 200C, 4X-30X, 1M-50M, 30C, 200CH, Q from $3.99
Purchase options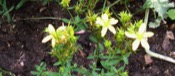 Below are the main rubriks (i.e strongest indications or symptoms) of Hypericum Perforatum in traditional homeopathic usage, not approved by the FDA.
< < Hypericum Perforatum- main page
EXTREMITIES, LIMBS
Extremities, limbs
Darting pain in shoulders
Pressure along ulnar side of arm
Cramp in calves
Pain in toes and fingers, especially in tips
Crawling in hand and feet
Lancinating pain in upper and lower limbs
Neuritis, with tingling, burning pain, numbness and flossy skin
Joints feel bruised
Hysterical joints
Tetanus ( Physostigma Physostigma.; Kali Bromatum Kali-brom.) Traumatic neuralgia and neuritis.
≡ more ...