St. John's-wort, Hypericum, Hypericum Perfoliatum, Hypericum perforatum, millepertuis, Hyper.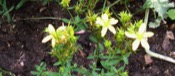 Below are the main rubriks (i.e strongest indications or symptoms) of Hypericum Perforatum in traditional homeopathic usage, not approved by the FDA.


Have you ever used Hypericum Perforatum? Yes No


< < Hypericum Perforatum- main page
EXTREMITIES, LIMBS
Extremities, limbs
Crawling in hands and feet, as if they were numb.
Feeling of weakness and trembling of all the limbs.
Sensation of lameness of the left arm and right foot.
Cannot walk, spine affected.
Upper extremities
Flying pains, right shoulder.
Cutting under left scapulae.
Stitches on the top of the shoulder at every inspiration.
Tension in both arms and in the hands.
Pressure at insertion at of right deltoid.
Numbness in left arm; better from rubbing.
Hard pain running down left median nerve.
Cutting in fleshy ends of fingers.
Lower extremities
Weakening drawing, over the front of legs; shooting pain, as if in the periosteum.
Left leg numb, cold, while sitting.
Articular rheumatism (knees), with great effusion around the joint, with muddy urine looking like the settlings of beer.
Fearful pains in knees, sharp, could hardly touch them.
Sensation as if the left foot was strained or dislocated.
Lying in bed the feet tingle.
Excruciating pain in bunions (external applications).
≡ more ...