St. John's-wort, Hypericum, Hypericum Perfoliatum, Hypericum perforatum, millepertuis, Hyper.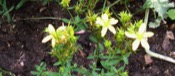 Have you ever used Hypericum Perforatum? Yes No


< < Hypericum Perforatum- main page

Below are the main rubriks (i.e strongest indications or symptoms) of Hypericum Perforatum in traditional homeopathic usage, not approved by the FDA.
EYES
Eyes
Discoloration; redness; morning; 4 a.m.
Distorted; during sleep
Growth, tumour
sty; left eye
sty; lower lid
Pain
eyebrows
right
night
burning, smarting, gnawing, biting
corner
sore, bruised, tender
stitching, sudden, sharp
extending backward
tearing
evening
Pupils; dilated
Staring
Tension
lids
Weak
Vision
Dim
Long-sighted (near objects blurred); evening
Weak (see eyes, weak)
≡ more ...