St. John's-wort, Hypericum, Hypericum Perfoliatum, Hypericum perforatum, millepertuis, Hyper.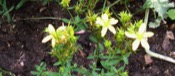 Have you ever used Hypericum Perforatum? Yes No


< < Hypericum Perforatum- main page

Below are the main rubriks (i.e strongest indications or symptoms) of Hypericum Perforatum in traditional homeopathic usage, not approved by the FDA.
FACE
Face
Expression of suffering.
Cheeks red; erysipelatous redness.
Dull faceache, aching in brows; afternoon, evening; worse at night, disturbing sleep.
Headache extending into zygoma or cheek.
Red eruption on both cheeks; chin and nose; sometimes dry, with thin crusts; sometimes fiery red, oozing yellow drops.
Lower face
Eruption around the mouth and on right ear.
Yellowish-greenish scabs, with cracking and moisture.
Lips, dry, feel hot.
≡ more ...