St. John's-wort, Hypericum, Hypericum Perfoliatum, Hypericum perforatum, millepertuis, Hyper.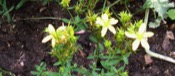 Have you ever used Hypericum Perforatum? Yes No


< < Hypericum Perforatum- main page

Below are the main rubriks (i.e strongest indications or symptoms) of Hypericum Perforatum in traditional homeopathic usage, not approved by the FDA.
GENERAL
General
(Evening), depression.
weakness in head. stitches in temporal regions.
tearing in vertex. pressive pain, etc.
in occiput. tearing in occiput.
tearing in eye. stitches through ear.
distension of abdomen.
after coffee, pain in abdomen, etc.
drawing etc. in back.
tearing in arms. tearing in thumb.
sticking in toe. lameness, etc., in muscles.
biting on fingers. shuddering.
heat, etc..
Defective memory. can hardly arrange ideas, and cannot execute her intentions.
forgets what she wanted to do (fourth day). There have been several letters omitted in her written statement of symptoms, especially on the first and second days.
the same state caused this as made her so forgetful, but it existed in a less degree,.
GENERAL SYMPTOMS.
Objective.
Frequent starting up as from affright, always with rising of great heat into the neck (fifth day),
Lameness and stiffness with spasmodic restlessness in the muscles and tendons, especially in the evening and at night, often waking from sleep,
Weariness on waking from sleep,
Weak, distracted, in the afternoon, after a short walk (first day),
Weakness when walking, was obliged to walk slowly; when walking, but not when sitting,
Weakness even to falling down,
Great weakness (tenth day), ; continuing after the proving,
Great weakness and trembling, on waking in the morning (eighth day),
Great weakness, with violent thirst, on waking in the morning (second day),
Extremely weak (third day),
Exhaustion (ninth and tenth days),
Great exhaustion (fifth night), and for three weeks after the proving,
Subjective.
Sensitive to the cold, for some time after the proving,
General nervous and vascular excitement (first to fourth day),
Inclined to great activity (fifth day),
Disinclined for mental and physical labor (fourth day),
Feeling of weakness (after one hour and a half),
The whole body feels affected as after a course of medicine,
Feeling, on waking at 4 A.M., as though she were not lying in bed, at another time as though she were lying very heavy in bed (second night),