St. John's-wort, Hypericum, Hypericum Perfoliatum, Hypericum perforatum, millepertuis, Hyper.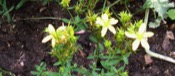 Have you ever used Hypericum Perforatum? Yes No


< < Hypericum Perforatum- main page

Below are the main rubriks (i.e strongest indications or symptoms) of Hypericum Perforatum in traditional homeopathic usage, not approved by the FDA.
GENERALITIES
Sleep and dreams
Dreams
amorous
anxious
of business; neglected business
busy
climbing a step
confused
exhausting
fights
frightful
hunting
journey
not remembered
vivid
Restless
Sleepiness, tiredness
afternoon
5 p.m.
evening; 6 p.m.
during dinner
Sleeplessness, insomnia; night; from thoughts; from activity of mind
Waking
from dreams
early
late
Yawning
morning
Convulsions
Convulsions
epileptic
from injuries
with tetanus rigidity
Perspiration
Morning
after waking
After waking from sleep
Generalities
Evening; 6 p.m.
Change of weather
Foggy weather
Faintness, fainting; on physical exertion
Inflammation; nerves
Jerking; on going to sleep
Lying down
lying on back
lying on side; on painless side
Numbness; externally
Pain
pressing; internally
tearing; externally
Pulse; frequent, accelerated, elevated, exalted, fast, innumerable, rapid
Sensitive; bones
Symptoms not symmetrical; crosswise, left upper and right lower
At approach of a storm
Tension; internally
Temperature (felt and effects of temperature); cold in general
cold air
from becoming cold
after becoming cold
cold, wet weather
Trembling; morning; on waking
Twitching; on going to sleep
Weakness (see lethargic, weariness)
morning
on waking
noon
afternoon
after walking
night
after eating
on rising
walking
Wet weather
≡ more ...