St. John's-wort, Hypericum, Hypericum Perfoliatum, Hypericum perforatum, millepertuis, Hyper.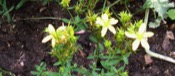 Have you ever used Hypericum Perforatum? Yes No


< < Hypericum Perforatum- main page

Below are the main rubriks (i.e strongest indications or symptoms) of Hypericum Perforatum in traditional homeopathic usage, not approved by the FDA.
GENERALITIES
Sleep
Constant drowsiness.
Spasmodic jerks in arms or legs on going to sleep; twitchings.
Dreams with activity, travelling; vivid; distressing.
At 4 a.m. talks nonsense in sleep, distorted staring eyes, throbbing arteries.
Wakes 4 a.m. with sense of levitation.
On awaking weary, amel. by noon; feels refreshed; bowels distended.
Convulsions
Convulsions from blows or concussions.
Generalities
Consequences of shock or fright.
Prevents lockjaw from wounds in soles, in fingers, and in palms of the hands.
After a fall, slightest motion of arms or neck extorts cries.
Flesh sore, feels bruised all over.
Injuries to parts rich in sentient nerves, esp. fingers, toes, and matrices of nails.
Mechanical injuries, wounds by nails or splinters in the feet, needles under the nails, squeezing, hammering; of the toes and fingers, esp. the tips of the fingers; when the nerves have been lacerated, wounded, torn, with excruciating pains.
Lacerations, when intolerable, excruciating pain shows nerves are severely involved.
Next to the nervous tissues, the joints are affected.
Sensation as of being lifted up high into air.
≡ more ...