St. John's-wort, Hypericum, Hypericum Perfoliatum, Hypericum perforatum, millepertuis, Hyper.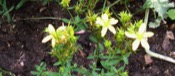 Have you ever used Hypericum Perforatum? Yes No


< < Hypericum Perforatum- main page

Below are the main rubriks (i.e strongest indications or symptoms) of Hypericum Perforatum in traditional homeopathic usage, not approved by the FDA.
GENERALITIES
Sleep
Spasmodic jerks of the arms or legs on going to sleep; twitchings.
On awaking weary, better by noon; feels refreshed; bowels distended.
Dreams with activity, travelling; vivid; distressing.
Convulsions
Convulsions from blows upon the head.
Convulsions after every, slight hurt or concussion.
Nausea and vomiting
Eructations tasteless; bitter; preventing sleep at night.
Nausea, weakness every morning.
Nausea, abdomen distended, cracking pains in bowels awaking in the night.
Eating and drinking
Tasteless.
Belching, when drinking water.
Smoking tobacco does not taste well.
After breakfast, headache, eructations, gastric symptoms, pressure in stomach, towards the back; pains in limbs.
After supper, flatulence and diarrhoea.
After eating 17.
Tissues
Injury to parts rich in sentient nerves; especially fingers, toes, matrices of nails.
Lacerations when the intolerable pain shows nerves are severely involved.
Local congestions nervous erethism, with or without hemorrhage; great nervous depression following wounds.
Always modifies and sometimes arrests ulceration and sloughing.
Next to the nervous tissues, the joints are affected; all articulations feel bruised.
Contact, Injuries, etc.
Punctured wounds feel very sore; from treading on nails; rat-bites, etc.; prevents lockjaw.
Wounds from crushing, as mashed fingers, especially tips.
Nerves lacerated pains excruciating.
Relieves pains in old cicatrices. (See 6.)
Painful wounds before suppuration.
Rheumatism, bunions, corns, etc., when the pains are so disproportionately severe as to show nerves are attacked.
After a fall, asphyxia.
After a knock or blow on the head, spasms.
Touch 31, 33. Rubbing 32.
Sensations
Flesh sore all over, bruised.
Nerves
Prevents lockjaw from wounds in soles, fingers or palms of hands.
Epileptiform spasms after knocking the body against anything.
Jerks in the limbs.
Weariness on awaking; goes off by noon.
Temperature and weather
Foggy weather 25. Changes from clear to damp 26. Before storms 26. Cold air 27.
Chill, Fever and Sweat.
Shuddering over the whole body, with desire to urinate.
Heat, with delirium, wild staring look, hot head, throbbing of carotids, bright red, bloated face, hair on head moist, burning heat of skin, great oppression and anguish.
Chill followed by heat, with sweat on hands and feet.
Sides.
Right 4, 5, 9, 18, 30, 31, 32. Left 4, 5, 7, 28, 30, 32, 33. Before backward 15. Upper right to lower left 28. Left upper and right lower 34. Above downward 32.
≡ more ...