St. John's-wort, Hypericum, Hypericum Perfoliatum, Hypericum perforatum, millepertuis, Hyper.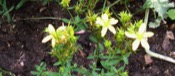 Below are the main rubriks (i.e strongest indications or symptoms) of Hypericum Perforatum in traditional homeopathic usage, not approved by the FDA.


Have you ever used Hypericum Perforatum? Yes No


< < Hypericum Perforatum- main page
GENERALITIES
Nerves
injuries When the finger ends or toes have beer, bruised or lacerated, or a nail has been torn off, or when a nerve has become pinched between a hammer and the bone in a blow, and that nerve becomes inflamed and the pain can be traced up along the nerve, and it is gradually extending toward the body from the injured part with stitching, darting pains, coming and going, or shooting up from the region of the injury toward the body, a dangerous condition is coming on.
≡ more ...