St. John's-wort, Hypericum, Hypericum Perfoliatum, Hypericum perforatum, millepertuis, Hyper.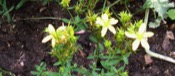 Have you ever used Hypericum Perforatum? Yes No


< < Hypericum Perforatum- main page

Below are the main rubriks (i.e strongest indications or symptoms) of Hypericum Perforatum in traditional homeopathic usage, not approved by the FDA.
GENITALS ETC
Urine
Nightly urging to urinate, with vertigo.
Urine much diminished; bloody; turbid; of peculiar odor.
Swelling and hardness of the female urethra, with burning, soreness and sensitiveness; especially if caused by instruments for uterine prolapsus.
Genitals
Sexual functions excited.
Tearing in the genital organs, with the desire to urinate.
Attended by sickening pain in belly, sensitiveness of hearing.
Leucorrhoea in a child, milky, but corroding.
Menses
Menses too late, with tension in the uterine region, as from a tight bandage; increased in quantity; three days before their appearance, pinching in the abdomen, diarrhoea, cold feet; headache, wrenching pain over eyes, better in motion; severe backache.
Leucorrhoea, with delayed menses, palpitation, pressure in the small of the back, and heaviness in lower bowels.
Pregnancy
Labor-pains tardy.
After-pains violent, in sacrum and hips, with severe headache; after instrumental delivery.
≡ more ...