St. John's-wort, Hypericum, Hypericum Perfoliatum, Hypericum perforatum, millepertuis, Hyper.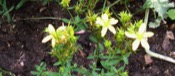 Have you ever used Hypericum Perforatum? Yes No


< < Hypericum Perforatum- main page

Below are the main rubriks (i.e strongest indications or symptoms) of Hypericum Perforatum in traditional homeopathic usage, not approved by the FDA.
HEAD
Head
Great heaviness in the head.
Tearing stitches in the brain.
Buzzing sensation in vertex at night as if something living were in brain.
Pulsation, heat and burning in the vertex (afternoon).
Sensation in the forehead as if touched by an icy cold hand.
Sensation as if the head became elongated.
Headache
Headache, extending into zygoma or cheek.
Headache, with sore eyes, after a fall.
Scalp
Hair moist, rest of body burning hot.
≡ more ...