St. John's-wort, Hypericum, Hypericum Perfoliatum, Hypericum perforatum, millepertuis, Hyper.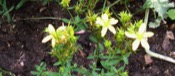 Have you ever used Hypericum Perforatum? Yes No


< < Hypericum Perforatum- main page

Below are the main rubriks (i.e strongest indications or symptoms) of Hypericum Perforatum in traditional homeopathic usage, not approved by the FDA.
MOUTH
Mouth
Heat
Heat; 5 p.m.
Pain
burning, raw and smarting
Gums and teeth
gums; after extraction of teeth
Teeth
injuries to dental nerves
pain
night
lying on painful side
movement
comes on suddenly (see intermittent)
pulling
jerking
tearing
tearing; morning
tension
Saliva
Dryness
Saliva; mucus, slime; after eating
Tongue
Discoloration
tongue; white
tongue; yellow
Pain; sore; tongue; from lacerated wounds
Speech; unable to speak; from soreness of lacerated tongue
Tongue; lacerated tongue
Taste
Taste
bad
bitter-sweet; bloody
flavourless
≡ more ...