St. John's-wort, Hypericum, Hypericum Perfoliatum, Hypericum perforatum, millepertuis Hyper.
Available
in 2C-30C, 200C, 4X-30X, 1M-50M, 30C, 200CH, Q from $3.99
Purchase options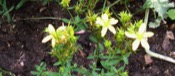 Below are the main rubriks (i.e strongest indications or symptoms) of Hypericum Perforatum in traditional homeopathic usage, not approved by the FDA.


Have you ever used Hypericum Perforatum? Yes No


< < Hypericum Perforatum- main page
MOUTH
Lips
Dry, burning heat in the mouth and on the lips.
Gums and teeth
Severe aching in decayed tooth at night; restless, wakeful; better lying on affected side, and keeping quiet.
Taste
Taste insipid; of blood.
≡ more ...