St. John's-wort, Hypericum, Hypericum Perfoliatum, Hypericum perforatum, millepertuis Hyper.
Available
in 2C-30C, 200C, 4X-30X, 1M-50M, 30C, 200CH, Q from $3.99
Purchase options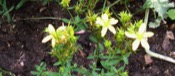 Below are the main rubriks (i.e strongest indications or symptoms) of Hypericum Perforatum in traditional homeopathic usage, not approved by the FDA.
< < Hypericum Perforatum- main page
RECTUM, ANUS, STOOL
Stool
Loose, bilious, yellow stools evening or morning.
Cholera morbus, slimy stools.
Summer diarrhoea, with eruption of the skin.
Diarrhoea driving out of bed in the morning.
Constipation; violent tenesmus, with discharge of a hard little ball.
Awakes with distended abdomen, relieved by stool.
Rectum feels dry, morning.
≡ more ...