St. John's-wort, Hypericum, Hypericum Perfoliatum, Hypericum perforatum, millepertuis, Hyper.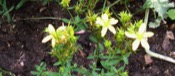 Have you ever used Hypericum Perforatum? Yes No


< < Hypericum Perforatum- main page

Below are the main rubriks (i.e strongest indications or symptoms) of Hypericum Perforatum in traditional homeopathic usage, not approved by the FDA.
RECTUM, ANUS, STOOL
Rectum
Burning biting, and a feeling of dryness in the anus, in the morning,
Great desire for stool, with discharge of hard masses (second day),
Urgent desire for stool, with passage of small faecal masses (third day),
Very unusual, severe urging to stool, in bed soon after waking, which could only be restrained with very great difficulty while I dressed; stool normal (third morning),
Ineffectual urging to stool (third night),
Stools attended with most violent tenesmus (fourth day),
Stool
During the proving the stool almost always occurred twice daily, morning and evening, normal and profuse; usually I had but, one stool, and was not at all inclined to diarrhoea,
Stool freer than usual, in the morning (second day),
Stool soft, in the evening (third day),
Stool hard (eighth day), ; at 3 P.M. (second day),
Stool irregular, sometimes hard, sometimes soft, "very bilious,"
Stool delayed,
Difficult stool, with violent tenesmus, so that it caused nausea, in the evening (seventh day),
≡ more ...