St. John's-wort, Hypericum, Hypericum Perfoliatum, Hypericum perforatum, millepertuis, Hyper.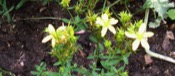 Have you ever used Hypericum Perforatum? Yes No


< < Hypericum Perforatum- main page

Below are the main rubriks (i.e strongest indications or symptoms) of Hypericum Perforatum in traditional homeopathic usage, not approved by the FDA.
SKIN
Skin
Great itching when undressing, most in sacral region.
Skin rough, as if full of small knots.
Pimples on forehead, throat, back, hips.
Tetters, beginning with sore places, and forming hard, yellow crusts, with violent itching.
Smarting eruption, like nettle-rash, on the hands.
≡ more ...