St. John's-wort, Hypericum, Hypericum Perfoliatum, Hypericum perforatum, millepertuis, Hyper.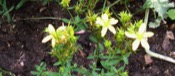 Have you ever used Hypericum Perforatum? Yes No


< < Hypericum Perforatum- main page

Below are the main rubriks (i.e strongest indications or symptoms) of Hypericum Perforatum in traditional homeopathic usage, not approved by the FDA.
SKIN
Skin
Abnormal growths; ulcers; discharges; offensive
ulcers; phagedenic (spreading, obstinate ulceration)
Like insects crawling on skin
Itching; undressing
Numbness
Out-breaks on skin; crusty; yellow
Scars; become painful
Stings of insects
≡ more ...