St. John's-wort, Hypericum, Hypericum Perfoliatum, Hypericum perforatum, millepertuis Hyper.
Available
in 2C-30C, 200C, 4X-30X, 1M-50M, 30C, 200CH, Q from $3.99
Purchase options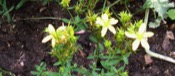 Below are the main rubriks (i.e strongest indications or symptoms) of Hypericum Perforatum in traditional homeopathic usage, not approved by the FDA.


Have you ever used Hypericum Perforatum? Yes No


< < Hypericum Perforatum- main page
SKIN
Skin
Abnormal growths; ulcers; discharges; offensive
ulcers; phagedenic (spreading, obstinate ulceration)
Like insects crawling on skin
Itching; undressing
Numbness
Out-breaks on skin; crusty; yellow
Scars; become painful
Stings of insects
≡ more ...