St. John's-wort, Hypericum, Hypericum Perfoliatum, Hypericum perforatum, millepertuis, Hyper.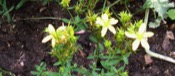 Have you ever used Hypericum Perforatum? Yes No


< < Hypericum Perforatum- main page

Below are the main rubriks (i.e strongest indications or symptoms) of Hypericum Perforatum in traditional homeopathic usage, not approved by the FDA.
VERTIGO, DIZZINESS
Vertigo
Heaviness and dizziness in the head.
Vertigo at night, with urging to urinate.
Sensorium
Buzzing sensation in vertex at night, as if something living were in the brain.
Sensation as if being lifted up high into the air; tormented by anxiety that slightest touch or motion would make her fall down from this height; with headache. θ After a fall on occiput.
Asphyxia after a fall; when jerking or shooting pains appear.
≡ more ...