Blue Flag, Iris vers, Iris v, Iris.
HPUS
indication of Iris Versicolor:
Headache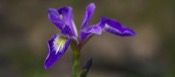 Below are the main rubriks (i.e strongest indications or symptoms) of Iris Versicolor in traditional homeopathic usage, not approved by the FDA.


Have you ever used Iris Versicolor? Yes No


< < Iris Versicolor- main page
ABDOMEN
Abdomen
Pain in the region of the liver; agg. from motion.
Awful burning distress, deep in region of pancreas, not amel. by cold water.
Cutting pain in the lower part of abdomen.
Sharp griping pains in the bowels.
Appetite
Loss of appetite.
Bitter, putrid taste.
Eating
Vomiting of food; sour; bilious; of sweetish water; of sour milk in children.
Flatus
Colic amel. by bending forward; amel. by discharge of flatulence.
Fetid flatulence.
Pain in abdomen amel. by discharge of flatus.
Nausea
Nausea and empty eructations.
Vomiting
Nausea and vomiting of a watery and very acid substance.
Stomach
Eructations of tasteless gas; frequently empty.
Contents of stomach "turn to vinegar.".
Pain in stomach before breakfast and from drinking water.
Great burning distress in epigastrium; mouth and stomach feel on fire.
≡ more ...