Blue Flag, Iris vers, Iris v, Iris.
HPUS
indication of Iris Versicolor:
Headache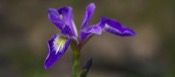 Below are the main rubriks (i.e strongest indications or symptoms) of Iris Versicolor in traditional homeopathic usage, not approved by the FDA.


Have you ever used Iris Versicolor? Yes No


< < Iris Versicolor- main page
APPENDIX
Authorities
1, Dr. J. G. Rowland, Thesis Phil. Hom. Med. College, 1852, effects of 3d dil.; 1a, same, effects of 1st dil.; 1b, same, effects of nearly 1 1/2 ounces of tinct.; 2, another prover, effects of 1st and 3d dils. and tinct.; 3, another prover took 1st and 3d dils. and tinct.; 4, another prover took 1st trituration; 5, Dr. William A. Burt, proving with 3 grains green root (twice) first day; 10 grains of green and 20 of dried root, second day; 30 drops tinct., third day; 4 grains of green root, fourth and fifth days, Hale's New Remedies, 2d ed.; 5a, same, subsequent proving with 50 grains of green root; 5b, same, proving with "Irisin;" Note Probably the mongrel so-called resinoid, there being no alkaloids known to exist in the natural order Iridaceae. -T. F. A.; repeated doses of 1st dec. trit. to 20 grains of crude; 6, Dr. William A. Holcombe, proving with 2 or 3 drops of strong tinct. four times a day for five days, Hale's New Remedies, 2d ed.; 7, Dr. Sandford; a lady took 2 or 3 one-grain pills of Irisin for several days (for constipation, without relief); 8, Berridge, N. Am. J. of Hom., N. S., 2, 57, Mrs. --- took repeated doses of 6th dil. for eleven days; 9, Dr. Croker took 6th dil., N. Am. J. of Hom., N. S., 2, p. 58; 10, Wesselhoeft's provings, Trans. Am. Inst. of Hom., 1868, effect of chewing fresh root; Note Was suffering from severe habitual headache at the time; this headache disappeared entirely in half an hour, though hitherto it had invariably lasted till he went to bed; 10a, same, took repeated doses of 5th dil. for three days; Note The prover had been suffering from sore throat for five days, with irritation of the larynx in the evening, and dryness and burning along the edge of the soft palate, which awoke him nights; the tonsils were swollen and painful on swallowing; this sore throat did not trouble him throughout the first day of the proving, better second day, well forenoon of third day; 10b, same prover afterwards took 2 daily doses of 3d dec. dil., beginning with 10 and ending with 25 drops, for six days; on seventh and eighth days took 1st dec. dil. twice daily 10 to 20-drop doses; 10c, same proving with the tinct. doses 10 to 50 drops; 11, Mrs. N. (from same), a dose of Iris (?); Note She had been troubled for the past few days with nausea and disordered stomach, but after taking the medicine it pased off, and she ate a hearty dinner; she afterwards took a dose of 5th dec. dil.; 12, Mrs. S. (from same) took 5th dec. dil., first and second days; 13, Dr. Squier (from same), provings with tinct. in doses of 1 to 20 drops; 14, Dr. Butman, provings with 1 to 20 drops of tinct. (from same); 15, Mrs. D. B. H., took 5th dec. dil., night and morning (same); 16, Mr. D. B. H., took same (same); 17, Mr. C. B. Fox, took same (same).
Supplement
IRIS VERSICOLOR.
Authority.18, Dr. C. H. Weaver, Hale's New Remedies, 2d edition, p. 1103, proving by Dr. Weaver; 19, same, proving by N. F.
July 25 th. At 1 A.M. took 8 drops, an immediate feeling as though the brain was partially narcotized, soon followed by sharp, cutting pains darting through the temples; also in the elbows and biceps muscle; also feeling of contusive lameness in the last-mentioned parts.
Note.
A marked symptom observed in three former provings, upon as many persons, was troubled and lascivious dreams, with a profuse, involuntary emission of seminal fluid,
≡ more ...