Blue Flag, Iris vers, Iris v, Iris.
HPUS
indication of Iris Versicolor:
Headache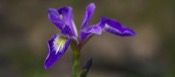 Below are the main rubriks (i.e strongest indications or symptoms) of Iris Versicolor in traditional homeopathic usage, not approved by the FDA.


Have you ever used Iris Versicolor? Yes No


< < Iris Versicolor- main page
BACK AND NECK
Back
Stiffness in the back, increasing on sitting down, remaining all the morning (eighth day),
Feeling of weariness in the back for several days,
Pain in the back (second day),
Severe backache (second day),
Very severe backache (sixth day),
Back pains me very much (twelfth day),
Back pains very severely; very much worse by walking (seventh day),
Dorsal.
Stiffness in trapezius muscles (first day),
Stiffness of trapezius muscles causes constant shrugging of the shoulders and desire to twist the head from side to side; lasted all the forenoon,
Lumbar.
Constant pain in the lumbar region, aggravated by motion (fifth day),
Great pain in lumbar and sacral regions; almost impossible to walk (sixth day),
Dull heavy pain in the lumbar region all day (fourth and eleventh day),
Crampy pains in the right lumbar region, in the evening, continuing several hours and causing a sweat to break out,
A violent painful tearing in the lumbar region on rising, making it impossible to straighten the body into an erect posture for several moments; can gain the erect posture only very gradually (eighth day),
Feeling of weakness and weariness in the lower part of the back,
Pain in the small of the back, all day while sewing (third day),
Considerable stiffness of latissimus dorsi muscle of right side on moving, but not on touch or pressure (eighth day),
≡ more ...