Blue Flag, Iris vers, Iris v, Iris.
HPUS
indication of Iris Versicolor:
Headache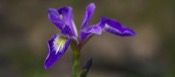 Below are the main rubriks (i.e strongest indications or symptoms) of Iris Versicolor in traditional homeopathic usage, not approved by the FDA.


Have you ever used Iris Versicolor? Yes No


< < Iris Versicolor- main page
CHEST
Chest
Rattling of mucus in the chest, not to be raised by hawking (after twelve hours),
Soreness of the chest, across from nipple to nipple, with a tender painful spot on right border of sternum; pain on inspiration; in the morning (second day),
Awoke at night with severe tickling under top of sternum, and cough, dry and distressing, because nothing could be raised nor the tickling be reached; rattling of loose phlegm low down in the windpipe (first day),
Pain in left side of chest,
Cramp in left side, under the ribs,
Cramp in the left side, like a knife, lasting a few minutes, followed after awhile by darting pains in the bowels,
Respiration
Pain in the left side, as though the ribs were pressing hard upon the lower portion of the lung; unable to take a long breath, for the pain in the left lung, which was of a sticking and cutting character,
Larynx, Trachea, and Bronchi.
A good deal of hawking an clearing out of the larynx (first day),
Frequent and painful hawking (screatus) of a tough mucus from the larynx (seventh and eighth days),
Frequent hawking; cough with soreness in trachea, also tickling without further expectoration, at 10 A.M. (second day),
Catarrhal mucus in a lump rattled up and down the trachea; at length it was expectorated with a sweetish offensive taste at 10 A.M. (second day),
Obstruction and catarrhal soreness of air-passages, at 10 A.M. (second day),
Voice.
Very hoarse (second day),
Cough and Expectoration.
Short dry cough, excited by tickling in the larynx,
Slight hacking cough in the morning, without expectoration, with soreness in the larynx anteriorly (third day),
Raised some phlegm (second morning),
Heart and pulse
Action of heart increased in force and frequency; pulse 89 (normal 72), (ten minutes after first dose),
Pulse accelerated,
Pulse somewhat accelerated,
Pulse feeble and frequent,
≡ more ...