Blue Flag, Iris vers, Iris v, Iris.
HPUS
indication of Iris Versicolor:
Headache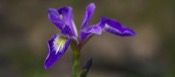 Have you ever used Iris Versicolor? Yes No


< < Iris Versicolor- main page

Below are the main rubriks (i.e strongest indications or symptoms) of Iris Versicolor in traditional homeopathic usage, not approved by the FDA.
EXTREMITIES, LIMBS
Upper extremities
Acute rheumatic pain in r. shoulder; agg. from motion, esp. on raising arm.
Severe shooting pains about the phalangeal and metacarpo-phalangeal articulations.
Pain in the fingers on writing.
(Will abort felon).
Lower extremities
Sciatica; painful drawing and lameness, as if l. hip were wrenched, extending to popliteal space.
Sudden shooting pains in l. sciatic nerve, causing lameness agg. on motion.
Moderate motion agg. exceedingly, violent motion does not affect.
Coxalgia in l. hip.
≡ more ...