Blue Flag, Iris vers, Iris v, Iris.
HPUS
indication of Iris Versicolor:
Headache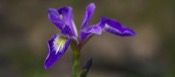 Have you ever used Iris Versicolor? Yes No


< < Iris Versicolor- main page

Below are the main rubriks (i.e strongest indications or symptoms) of Iris Versicolor in traditional homeopathic usage, not approved by the FDA.
MIND
Mind
Desires, wants; to kill; on waking
Emotions, feelings, attitude, disposition
irritability
irritability; daytime
irritability; morning; on waking
irritability; on waking
laughing; at own actions
unhappy; despair; discouraged
unhappy; sadness, mental depression
Intellectual faculties
impaired thinking; difficulty concentrating
impaired thinking; dull, sluggish
thoughts wandering; while writing
Insecure, uncertain, scared
anxiety; on waking
fear; of death
fear; of disease
fear; on waking
frightened easily; starting, startled; during sleep
Memory; weakness of memory
Restlessness, nervousness
night
Talking, conversation
critical
muttering (see delirium)
≡ more ...