Blue Flag, Iris vers, Iris v, Iris.
HPUS
indication of Iris Versicolor:
Headache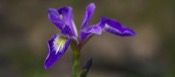 Have you ever used Iris Versicolor? Yes No


< < Iris Versicolor- main page

Below are the main rubriks (i.e strongest indications or symptoms) of Iris Versicolor in traditional homeopathic usage, not approved by the FDA.
MIND
Mind
Emotional.
Much mental depression,
Great depression of spirits, with the headache,
Despondency; thinks his is going to be very sick, then a disposition to laugh at his fears, which, however, soon return,
Nervous fretfulness, lasting all day,
Vexed, irritable mood, disposed to find fault,
Feels irritable, cross with her children, dislikes every one (third, fourth, and fifth days),
Very irritable through the day (sixth day),
Awoke feeling very irritable (fourth morning),
Ill-humor,
A disposition to feel displeased with everything and everybody, which gives place to a feeling of liveliness and activity,
Intellectual.
Inability to fix the mind on any subject; when writing mind will wander to other things,
Cannot fix my mind on my studies (fourth day),
Dulness of the head (mental faculties and special senses), (five minutes after 3d dose),
Weakness of memory (in twenty-four hours),
≡ more ...