Blue Flag, Iris vers, Iris v, Iris.
HPUS
indication of Iris Versicolor:
Headache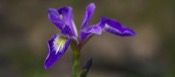 Below are the main rubriks (i.e strongest indications or symptoms) of Iris Versicolor in traditional homeopathic usage, not approved by the FDA.


Have you ever used Iris Versicolor? Yes No


< < Iris Versicolor- main page
MOUTH
Mouth
Dry mouth in the morning, in bed.
Mouth dry and clammy.
Mouth and stomach feel on fire; almost impossible to breathe, it is so acrid.
Lips
Dry, cracked lips.
Gums and teeth
The tongue and gums feel as if covered by a greasy substance in the morning on rising.
Toothache in the warm room.
Saliva
Profuse flow of saliva; ropy, drops when talking.
Tongue
Mouth and tongue feel as if they had been scalded.
Raw pain in l. side of tongue.
Taste
Food tastes flat or acid.
Taste at first sweetish or insipid; later violent burning.
≡ more ...