Blue Flag, Iris vers, Iris v, Iris.
HPUS
indication of Iris Versicolor:
Headache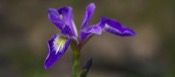 Have you ever used Iris Versicolor? Yes No


< < Iris Versicolor- main page

Below are the main rubriks (i.e strongest indications or symptoms) of Iris Versicolor in traditional homeopathic usage, not approved by the FDA.
MOUTH
Mouth
Ulcers on the mucous lining of the cheeks.
Saliva
Salivation after diphtheria, with swelling of the parotids.
Tongue
Tongue feels as if scalded; greasy feeling on arising in morning.
Taste
Saliva taste greasy, slimy.
Loss of taste; flat taste.
Fauces
Burning in mouth and fauces, as if on fire.
≡ more ...