Blue Flag, Iris vers, Iris v, Iris.
HPUS
indication of Iris Versicolor:
Headache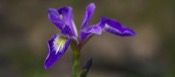 Have you ever used Iris Versicolor? Yes No


< < Iris Versicolor- main page

Below are the main rubriks (i.e strongest indications or symptoms) of Iris Versicolor in traditional homeopathic usage, not approved by the FDA.
SKIN
Skin
Several pimples on lower extremities and other parts of the body, like mosquito-bites,
Seven small vesicles appeared on the right wrist, which gradually formed into pustules, having a depression in the centre; these dried up in one night, leaving crusts, which remained nine days before disappearing (after taking medicine five days),
Boils on back, face, and hands,
Intense itching of the face, as if she could tear it to pieces, worse when warmth from exercise, at 11 A.M. (second day); continues at times (fourth and fifth days),
≡ more ...