Club Moss, Lycopodium, Lycop, Lycopod, Lyc.
HPUS
indication of Lycopodium Clavatum:
Digestion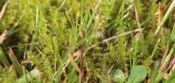 Below are the main rubriks (i.e strongest indications or symptoms) of Lycopodium in traditional homeopathic usage, not approved by the FDA.


Have you ever used Lycopodium? Yes No

ABDOMEN
Abdomen
Sensation of something moving up and down in stomach and bowels.
Pressure on hypochondrium causes pains in epigastrium and vice versa; chronic duodenitis.
Spasmodic contraction in the abdomen.
Colicky pains in the right side of the abdomen extending into the bladder with frequent urging to urinate.
When turning on to the right side, a hard body seems to roll from the navel to that side. θ Ascites.
Peritonitis with hepatitis and diaphragmitis.
Ascites from liver affections, after abuse of alcohol.
Abdomen distended; feet cold; indurations.
Brown spots on the abdomen.
Hernia (right side); crural hernia, females.
Renal colic in (right) ureter to bladder; red sand in urine.
Skin of the abdomen is painfully sensitive.
Flatus
Accumulation of flatulence, which becomes incarcerated; pressure upward, with full feeling also downward on the rectum and bladder.
Great fermentation in the abdomen; rumbling, croaking, rattling; also with colic and discharge of much flatus.
Hypochondria
Region of the liver sensitive to contact; sore aching as if from a shock.
Backache 31.
Tension in region of liver.
Tensive aching, worse bending body or pressure of hand.
Nux Moschata Nutmeg liver and atrophic form.
Hepatitis chronic forms; abscesses; fan-like motion of the alae nasi; one hot, one cold foot.
Violent gall-stone colic.
Tension in the hypochondria as from a hoop.
Tension as from a cord marking the diaphragmatic attachments; cannot stretch or stand upright.
Rumbling of wind in the splenic flexure of the colon.
Stomach
Pressure in scrobiculum.
Sensation of twisting, crawling an emptiness in the stomach with yawning.
Fulness in stomach and bowels; pit of stomach sensitive to contact or tight clothing.
Gnawing, griping in the region of the stomach.
Perforating ulcer; worse sitting bent, better walking about and when warm in bed.
≡ more ...