Club Moss, Lycopodium, Lycop, Lycopod, Lyc.
HPUS
indication of Lycopodium Clavatum:
Digestion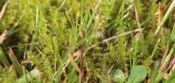 Below are the main rubriks (i.e strongest indications or symptoms) of Lycopodium in traditional homeopathic usage, not approved by the FDA.


Have you ever used Lycopodium? Yes No

BACK AND NECK
Back and neck
Furunculi under armpits.
Burning as of red-hot coals between scapulae.
Goitre.
Violent sacral pains, which do not permit sitting upright.
Pains in the back and loins, esp. when moving, stooping, and lifting anything, often accompanied by constrictive pains in abdomen.
Shootings in loins on rising up after stooping.
Drawing, tearing, and shooting pains in back and loins, with difficult respiration, chiefly when seated, and also at night.
Pain in back and r. side, from congestion of the liver.
Stitches in region of kidneys, agg. from pressure; extending into rectum.
Distortion of the spine.
Neck
Traction and contraction from the nape of the neck to the occiput.
Rigidity of the nape of the neck, sometimes caused by lifting a weight.
Maculae hepaticae in the nape of the neck.
Tetters on nape of neck and under armpits.
Stiffness, swelling, and induration of one side of neck.
Painful stiffness of l. side of neck.
Swelling of glands of neck and of the shoulder, with shooting pain.
Weakness and paralysis of muscles of neck.
Painful eruption on neck.
Large clusters of red pimples around neck, with violent itching.
Soreness of the neck.
≡ more ...