Club Moss, Lycopodium, Lycop, Lycopod, Lyc.
HPUS
indication of Lycopodium Clavatum:
Digestion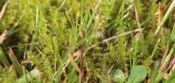 Below are the main rubriks (i.e strongest indications or symptoms) of Lycopodium in traditional homeopathic usage, not approved by the FDA.


Have you ever used Lycopodium? Yes No

NOSE
Nose
Oversensitiveness of smell.
Nose stopped up, especially at the root; breathes with open mouth and protruding tongue. θ Diphtheria.
Snuffles, child starts out of sleep rubbing its nose.
Catarrh of nose and frontal sinuses; discharge yellow and thick; frontal headache, yellow complexion.
The ichorous discharge from nose begins in right nostril. θ Scarlatina. θ Diphtheria.
Scurf in the nose.
Fan-like motion of the alae nasi.
Discharge
Violent coryza, nose swollen; discharge acrid, excoriating; posterior nares dry.
≡ more ...