Peppermint, Ment.
HPUS
indication of Mentha Piperita:
Dry cough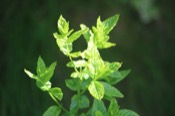 Have you ever used Mentha Piperita? Yes No


< < Mentha Piperita- main page

Below are the main rubriks (i.e strongest indications or symptoms) of Mentha Piperita in traditional homeopathic usage, not approved by the FDA.
CHEST
Respiration
Voice husky
Tip of nose sore to touch
Throat dry and sore, as if pin crosswise in it
Dry cough, worse from air into larynx, tobacco smoke, fog, talking; With irritation in suprasternal fossa (Rumex Acetosa Rumex.) Trachea painful to touch.
≡ more ...